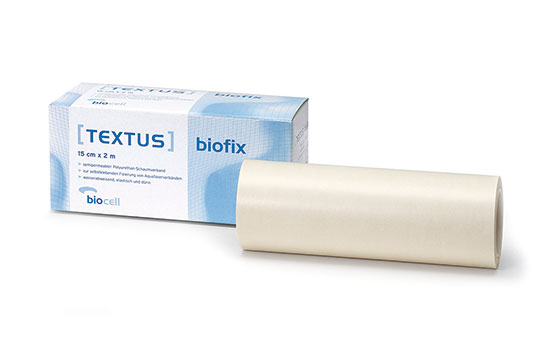 [TEXTUS] BIOFIX SEMIPERMEABLE
[TEXTUS] bio x® is a non-sterile, semipermeable and selfadhesive polyurethane lm to cover modern (moist) wound care dressings. Due to its self-adhesive nature, [TEXTUS] bio x® is easy to apply and detach even from sensitive skin, enabling an atraumatic dressing change. [TEXTUS] bio x® regulates the moisture level in the primary wound care dressing and prevents the wound from becoming too dry. [TEXTUS] bio x® is elastic in all directions and thus able to adapt very well to any shape of the body. Its hypoal- lergenic glue allows for high tolerance of the skin, even when worn for extended periods of time.
[TEXTUS] HEAL HYALURONSPRAY
[TEXTUS] heal® is a hyaluronic acid spray for local use in non-infected, clean wounds for long-lasting promotion of new formation of granulation and epithelial tissue. [TEXTUS] heal® is also suitable for local use in the case of wound stagnation. The spray is made of 0.2% biofermented hyaluronic acid-sodium salt in Ringer's solution without preservatives. Due to its integrated contamination protec- tion, the contents of the multidose system (15 ml) remain sterile even after opening and can be used for up to 12 weeks on multiple patients.
[TEXTUS] BALANCE AQUAFILAMENT
[TEXTUS] balance® is a wound dressing based on the patented Aqua lament® Technology, used for "clean", granulating wounds. With its twofold balancing effect, providing moisture balance and binding protease, [TEXTUS] balance® stimulates the skin's self-healing power. [TEXTUS] balance® absorbs exudate vertically, in accordance with the natural process of wound healing, which works from bottom to top and from the outside to the inside, thus reliably protects the wound edges from maceration.
[TEXTUS] BIOACTIVE AQUAFILAMENT
[TEXTUS] bioactiv® Ag is an innovative, fibre-based dressing built on Aquafilament® Technology. Its threefold cleansing effect recreates the skin's natural self-healing and thus encourages wound healing. The superabsorbing Aquafilament fibers rapidly absorb and bind large amounts of bacteria and debris from the wound exudate. The vertical absorption of wound exudate provides reliable protection edges and thus minimizes maceration.
More Information